Golden Rule Media, LLC is a media production company that specializes in creating and producing a film, video, and other forms of audio, audio-visual, and written content for both commercial and non-commercial purposes, and for both public and private audiences. The works we produce are designed specifically with an eye to quality and substance, always keeping in mind that the threshold underlying goals and assessments of any project we initiate are ultimately to make a positive, productive, meaningful, and lasting impact upon society in one way or another, no matter how widespread the reach of any piece may be.
Founder/Principal
Dara Sanandaji graduated from Dartmouth College in 2000, where he earned a B.A. in Economics and studied abroad at the University Autónoma de Madrid. He then graduated from Chicago-Kent College of Law in 2006 and later worked in the financial services sector, where he earned his Certified Financial Planner (CFP ®️) designation in 2011. A few years later, Dara transitioned into writing and filmmaking, and since then he has written, directed, and produced two feature-length documentary films. Dara also hosted his own independent radio show, "The Big Picture Radio Show," in Chicago in 2014.
I am a headline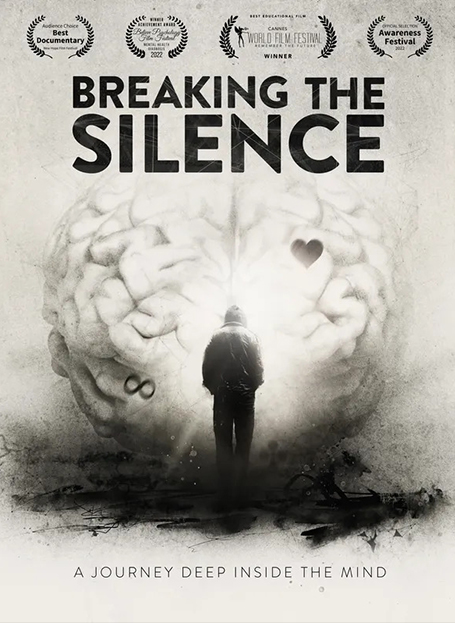 "Breaking the Silence"
A fresh, new-look film dedicated to everyone around the world who suffers quietly and in the shadows - alone, worn out, and without hope. At its heart, this film is an intense journey deep into the mind, how it can break, and how it can ultimately heal. It is a story which will undoubtedly touch many, many hearts and minds, no matter who you are or where you are in life.
Golden Rule Media, LLC © 2021
I am a headline
"Breaking the Silence" (2021) - Teaser Trailer
I am a headline
"Two Weeks with Dada" (2021) - Official Trailer
I am a headline
"Breaking the Silence" (2021) - Official Trailer
Books

I"m a paragraph. Click here to add your own text and edit me. It's easy. Just click "Edit this text" below and you can start adding your own content and make changes to the font.

NOTE: This sample text won't appear for your users

BREAKING THE SILENCE

BREAKING THE SILENCE is a profound depth charge into how the mind can break, and how it can ultimately heal. It is an unabashedly raw memoir of intense introspection which details an intimate personal journey of abject suffering hearing voices day in and day out for years on end. These often horrific experiences are also adorned with the mind-numbing frustration of experiencing myriad, rarely discussed, and even less understood, synchronous phenomena all around the author, and all at the same time. This deeply moving life-story account is intricately interwoven with undeniably genuine pontifications on life's most important lessons, applicable to everyone, psychiatric diagnosis or not. Catharsis, redemption, and recovery emerge as the book's central themes as the story unfolds, and these revelations help to remind us that we are not alone in our shared experiences here on this Earth.

PURCHASE ON AMAZON.COM
MIRROR FOR THE MIND
MIRROR FOR THE MIND is a collection of philosophical adages which owe their roots to a deep and profound love affair with the human condition. Essentially, these adages are simply ideas- ideas that, in one form or another, have undoubtedly been pondered on countless occasions since the dawn of human existence. And, although the author has written them without collaboration with or reference to any outside sources, and has personally converted them into language based on an intense journey of individual experience and introspection, they truly and honestly belong to every man and woman who calls this Earth home. In the end, these simple sayings represent a humble offering to humanity, just like any of the other wondrous gifts we pass along to each other in the spirit of genuine human connection, person to person and generation to generation, which ultimately make this a better place to live in for us all.
PURCHASE ON AMAZON.COM
I am a headline

I am a headline

I am a headline
"Powerful writing paired with an empowering story, "Breaking the Silence" is a testament to resilience...at times Dara Sanandaji's journey had me on the verge of tears...He was open, vulnerable, and unafraid to share his struggles with the world so that other people can take courage from his experiences...Reading this book felt like having a private conversation with a friend. Dara is an inspiration for thousands!" --Rabia Tanveer
"Author Dara Sanandaji delivers some truly powerful autobiographical writing in this heartfelt account of intense troubles that psychological disorders can cause us...Sanandaji portrays a fascinating and often highly emotional inner dialogue that resonates deeply on these wider themes, and I felt that the honesty of the author came through in these moments very profoundly. By the time you finish Breaking the Silence, it feels as if something very private and important has been shared with you. A highly recommended read." --K.C. Finn
"Dara Sanandaji doesn't pull any punches in revealing the travails of his psychological burden to bring to the forefront the manifestation of his self-awareness. Sanndaji's grasp on the nature of his condition is both profound and enlightening...If man versus himself is one of the most powerful conflicts in fact and fiction, then Sanandaji's bout with his inner turmoil is one for the books...Breaking the Silence is an inspiring read, a confession of suffering with appropriate information for anyone to understand mental disturbance and the need to consider more perspectives." --Vincent Dublado